Narrative: Romanian Public R&D System in 2020
From FORwiki
Background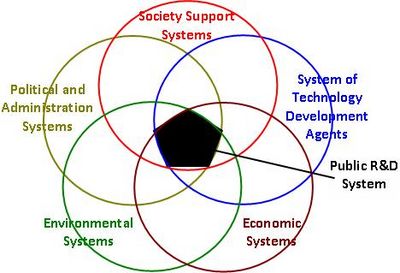 Management structure
Foresight design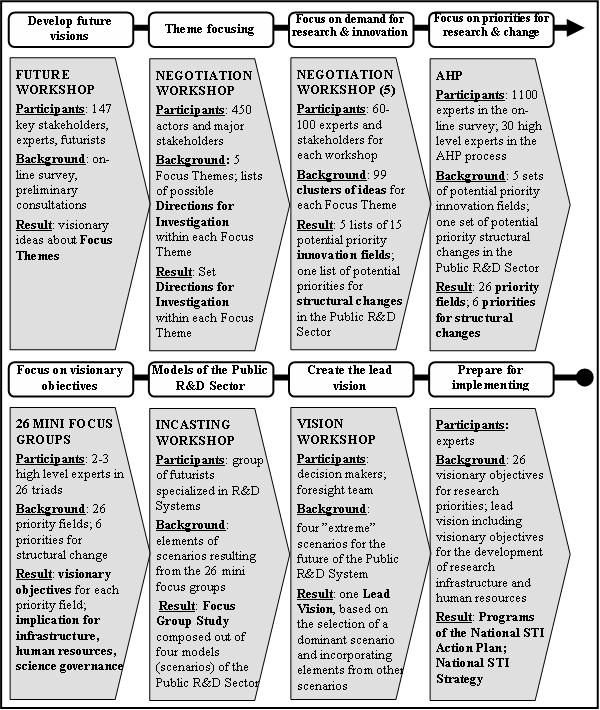 Step 1: Develop future visions
Key stakeholders were interviewed in order to determine possible Focus Themes for the foresight exercise.
A Future Workshop was organized. The objective was to determine a set of Focus Themes from the data collected during the interviews. The participants were decision-makers and futurists. Five Focus Themes were identified:
Information Society Technologies
Competitiveness through Innovation
Quality of Life
Social and Cultural Dynamics
Energy and Environment
A "non-thematic" Focus Theme was added. It's topic was structural change in the Public R&D System.
An online survey was used in order to collect data on possible Directions for Investigation within each Focus Theme.
The data were clustered, and initial lists of possible Directions for Investigation were produced for each Focus Theme.
Step 2: Theme focusing
The final set of Directions for Investigation are selected from the larger set. Each Focus Theme has at least a minimal number of Directions for Investigation. A Negotiation Workshop was organized, with participants representing the system of technology development agents, economic systems, environmental systems, political and administration systems, social support systems. They formed groups and negotiated according to their interest in one or another of the Focus Themes, rather than the above mentioned affiliations.
The Negotiation Workshop
Objective: Select m statements, balanced among p categories, from a larger set of n visionary statements
Preliminaries: A large number of statements about the future are collected, grouped and merged into n visionary statements; the n visionary statements are further grouped into p clusters.
Participants: 60-100 people, representing a diversity of actors (research system, public administration, private interests, civic society, …).
Script:
Organizers are forming p/2 heterogeneous groups, including participants with diverse affiliations. Groups are gathered according to each participant's interest for the topics of two clusters from the total of p clusters, as opposed to their affiliation. In the example from Figure 4, p=6, and three groups are formed: Group A, Group B, Group C. At the next step, each group will analyze two clusters, of most interest for its members.
Groups select m/2 statements from each one of the two clusters they are analyzing. At the end of the first session, each group will identify a list of m visionary statements from the two clusters.
Representatives of each group present their selected list in a short plenary session.
Each group analyzes the lists selected by other groups, and identifies possible trade-offs.
Representatives of each group negotiate a the final list of m statements.
The final list is presented during a short plenary session.
Step 3: Focus on demand for research and development
Once the Directions for Investigation were set, data about Romania's long-term research priorities within each Direction for Investigation were collected through interviews and an online survey.
The data were merged into 99 visionary statements for each Focus Theme.
The 99 visionary statements were grouped in 6 clusters for each Focus Theme.
A Negotiation Workshop was organized for each Focus Theme. The workshops produced lists of 15 potential priority visionary statements.
Step 4: Focus on priorities for research and change
This step in the foresight process involved a collaborative approach to Multiple Criteria Analysis. The objective was to select high-priority Fields of Innovation from the first five lists of visionary statements. Separately, a high-level expert group selected high-priority Structural Changes for the Public R&D System, from the sixth list (see Table 2).
Literature on MCDM (Multiple Criteria Decision Methods) indicated that they hold their promise in terms of lending both rigor and transparency to the foresight process. More important, the problem of balance in technological grouping was crucial for the Romanian methodology, and a Multiple Criteria Analysis seemed to address this problem. Innovation studies had shown that a "critical" technology often depends on advances on other technologies, which might be perceived as less "critical" in the beginning. Hence, identifying priority Fields of Innovation was not to be done by isolating and ranking them, but rather by examining portfolios of innovation fields, promoted in conjunction.
Among the multiple criteria decision methods used in foresight exercises, the Romanian team chose to employ AHP (Analytical Hierarchy Process) for two important reasons: (1) it is easy to understand by all the participants involved; (2) software support was available. And then the six steps of the method were implemented.
Identification of stakeholders: Over 1000 stakeholders and experts eventually took part in an on-line voting procedure on the innovation fields that were to become governmental spending priorities. Stakeholder participation was balanced against the criteria of belonging to one of the following categories: technology developers, public administration, private sector, civil society.
Development of goals: A Futures Workshop was dedicated to building a consensus about the goals of Romanian technology research and innovation among the most influential stakeholders (representatives of the Romanian government, managers of successful industrial enterprises). The one-day workshop took place in a remote location (that reminded the participants of some of the most infamous characters in Romanian history!), and, in the end, three long-term goals emerged: Development of Knowledge, Achieving Technological Competitiveness, and Raising Social Quality.
Model development: A focus group was organized with decision-makers from the System of Technology Development Agents, and the three goals further differentiated into seven lower-level criteria against which the innovation fields were to be evaluated:

C1: "has the potential to raise the overall economic competitiveness in Romania";
C2: "results in the creation of jobs";
C3: "will raise social cohesion";
C4: "will improve the environmental quality of Romania";
C5: "is attractive for private investors in technology development and innovation";
C6: "develops knowledge";
C7: "Romanian innovation system will produce results before 2020".

Score elicitation: Participants to a on-line voting procedure were invited to rate innovation fields against the low-level criteria.
Weight elicitation: Criteria weights were elicited to assess the relative importance of the criteria, in accordance with the AHP method. A small group of high level experts produced pair-evaluations on the relative importance of criteria for each Focus Theme. The data were then processed using dedicated software.
Computation of overall performance measures: Results from score and weight elicitation were combined to derive an aggregate value for each innovation field. This value ranks alternatives according to their desirability relative to the others, but it does not provide a definitive answer. Experts were asked to pick a balanced portfolio of best-ranked alternatives for each of the Focus Themes. Only then this stage in foresight exercise was completed.
Table 1 illustrates the selected portfolio of high-priority Fields of Innovation for each Focus Theme.
Table 1: Focus Themes and priority Fields of Innovation
INFORMATION SOCIETY TECHNOLOGIES

Theoretical Informatics and Computer Science
Advanced Information Systems for e-Services
Communication Technologies, Systems, and Infrastructures
Artificial Intelligence, Robotics and Autonomous Advanced Systems
Information Systems Security and Accessibility
Technologies for Ambient and Distributed Systems
Nano-electronics, Photonics, and micro-nano Integrated Systems

COMPETITIVENESS THROUGH INNOVATION

Advanced Materials
Biotechnologies for Agriculture, Food Industry and Health
Advanced Technologies for Industrial Process Control
Innovative Products and Technologies for Transportation
Technologies for High-Precision Mechanical Products and Mecatronics
New Methods for Management, Marketing and Enterprise Development

QUALITY OF LIFE

Quality of Education
Quality of Health
Quality of Living
Quality of Working Conditions

SOCIAL AND CULTURAL DYNAMICS

Human, Social, and Cultural Capital
Material/Immaterial Patrimony – Cultural Tourism. Creative Industries
Social Inequalities. Regional Disparities
Technology, Organization and Cultural Change

ENERGY AND ENVIRONMENT

Methods and Procedures for Reducing Environmental Pollution
Sustainable Energy Systems and Technologies. Energetic Security
Territorial Planning. Infrastructure and Utilities.
Waste Management System, Products Life-cycle Analysis, Eco-efficiency
Ecological Protection and Reconstruction of Endangered Areas
Table 2: Priorities for structural change in the Public R&D System
STRUCTURAL CHANGE IN THE PUBLIC R&D SYSTEM

Develop regional technology transfer infrastructures;
Create structures for life-long development of human resources;
Create legal instruments for open partnerships;
Further develop the marketing of science and innovation;
Promote excellence in research and international visibility;
Reorganize the national innovation system.
Step 5: Focus on visionary objectives
Step 6: Models for the public R&D sector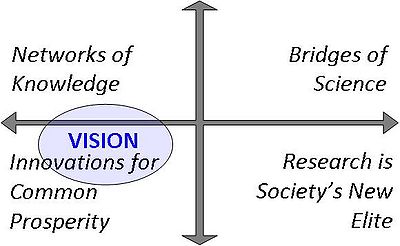 Step 7: Create a lead vision
Step 8: Prepare for implementing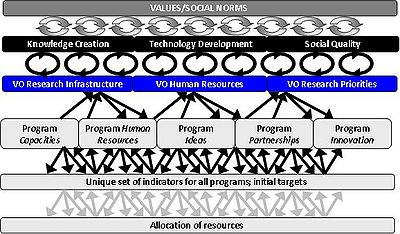 Outcomes
Lessons learned